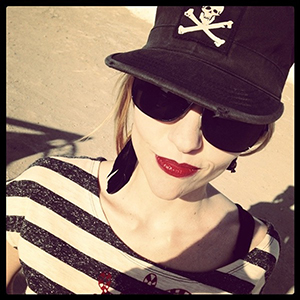 Paola Rocchetti aka Urdigital is an Italian designer and animator with a background in fashion,  illustration, brand identity, graphic design, character animation and a real passion for make up and styling. 
She has over 10 years experience in the industry and has been focusing for the past 8 years in design and motion graphics. Her client list includes: Prologue, Mirada, yU+co, Digital Kitchen, Logan, MPC, Google, YouTube, Coty Prestige, Turner, BBC, Viasat, Sapient, Unit9, Marc Jacobs, Calvin Klein, Cirque Du Soleil, Cartoon Network, Disney Channel, Nickelodeon, EA, Smirnoff, and many more.
Paola is an aesthete and loves eye catching, beautiful, well executed, stylized, glamorous, strong, fascinating imagery. Translating an idea into a whole look comes naturally to Paola. Researching and experimenting are very important components in this process. 
In 1997 Paola moved from her home town Rome to London, where she was based for many years. Currently she is living and working between Los Angeles and London, freelancing for local and international clients.