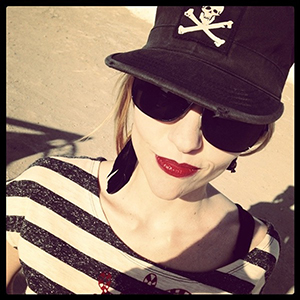 Paola Rocchetti is an award-winning art director, designer and animator, dividing her time between Los Angeles and London. Her eclectic work background includes fashion, illustration, brand identity, graphic design, character animation, and motion design.
Artistic expression is in Paola's DNA. Her father was Oscar-winning Makeup Artist Manlio Rocchetti, and Rocchetti Parrucche has been making fine wigs and designer hairpieces for over a century. Born and raised in Rome's historic center, Paola was so immersed in the capital's culture and history that she didn't notice how much it had influenced her until she went abroad. She spent 1 4 years in London, and has been working between London and Los Angeles for the past few years.
She's spent over 15 years in the business, working in multiple disciplines such as concept, art direction, design, styling, animation and more. Her first-class work has been commissioned for clients and brands including:
Paola's artwork has been featured in such magazines and websites as Rolling Stone, Stash, Idn, i-D, and Fashion Served curated Behance Gallery.
 
Translating an idea into a whole new look comes naturally to Paola, whether it's styleframes, designing a logo, conceiving characters for video production, or combining her skills to craft something entirely new. Research and experimentation are vital components to her process. 
Her passion is reflected in her personal flair, her years of experience and a natural gift for makeup and styling. A true aesthete, she's drawn to beauty that is eye-catching, well executed, fascinating and glamorous. Paola's constantly seeking out new knowledge, ideas and challenges.